Zworldo.com Blog 3 - Public Alpha Soft Launch and More
by David Wyand · 12/21/2010 (7:59 am) · 30 comments

Zworldo.com
is a free-to-play web site featuring games/worlds built with Torque 3D. Its first game, Greenwood Faire, was until recently in private alpha testing.
PUBLIC ALPHA SOFT LAUNCH
The title says it all. As of this past weekend, Zworldo.com and its first game, Greenwood Faire, have gone public. Please go to
www.zworldo.com
and try out my game. I've decided to maintain the
Alpha
designation as there is still a lot of content that I would like to put in place. Right now you can:
- Sit in the tavern and chat with friends while listening to streaming music.
- Enjoy making your own live music with a couple of instruments.
- Explore the surroundings by day, or at night by torch light.
- Attempt to make it to the center of the hedge maze.
- Can you find the hidden cave?
I have a few barriers up to help keep you contained within the currently built areas, but I'm sure some of you will find ways around them. :) If you ever get into trouble, just drop out and reconnect and you'll start back at the docks.
www.zworldo.com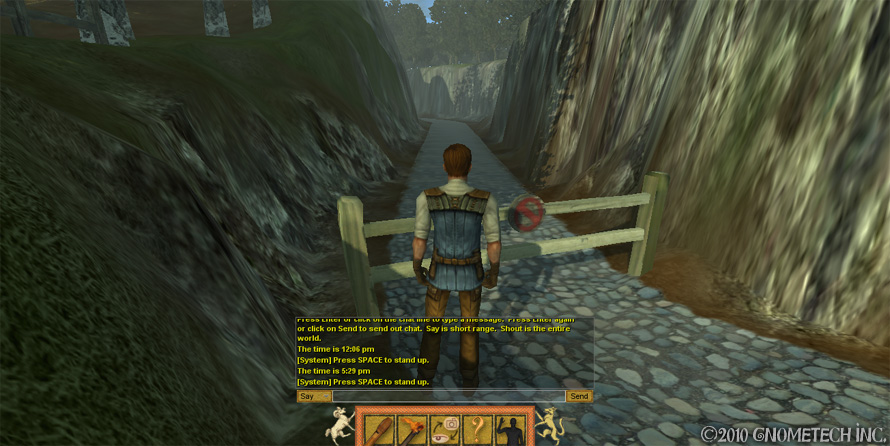 What? Do not enter? Now you're just daring me to find a way through!
BROWSER PLUG-IN INSTALLATION
Obviously before anyone can play my games on Zworldo.com they will have to install my tiny (~1MB) browser plug-in. That alone may be a turn-off to some players. Honestly, looking back at how the industry has changed since I started this project in the Spring of 2009, it may have been a wiser choice to go with some other technology that already has a large installed base. At least larger than my current installed base of a few testers.
My hope has always been that players are slowly becoming used to installing some plug-in if they want to play true 3D games from their browser. Games such as Free Realms, Wizard 101, Battlefield Heroes, Quake Live, and Need for Speed World certainly demonstrate willing players are out there. I just need to convince them that my plug-in is as safe as anyone else's.
Step 1: Minimal Permission
When it comes to installing a browser plug-in, the number of required clicks from start to installed needs to be as few as possible. It would also be great to avoid the dreaded
Admin Permission Required
window if at all possible. That alone will give the player pause as it can open their whole computer to the plug-in.
To avoid requiring administrator access I'm taking advantage of Windows Protected Mode. This means installing into the user account's
LocalLow
directory, and only making use of the HKEY_CURRENT_USER (HKCU) registry subtree. It also requires that you make sure your installer never requests administrator access for any of its operations. By following these practices I've been able to avoid any request to increase privileges, and hopefully provide the player with some peace of mind.
Step 2: Signed Installer and Plug-in
When a user attempts to install anything from the web, they're presented with a number of warnings about how the program may be harmful to their computer. The only way to really minimize these warnings -- they'll never completely go away -- is to sign both your installer and your browser plug-in.
I decided to go ahead and spend the $500 to obtain a signing certificate from
VeriSign
. After going through their internal checks to ensure that Gnometech Inc. is a valid company (which takes a day or two) and paying my fee, I received my digital certificate. Actually applying the certificate to my installer executable and plug-in DLL was extremely easy and complete in a couple of minutes.
Step 3: Open Communication About Plug-in
The first two steps are great to try and convince the user to complete the install while they are going through the process. But it doesn't help much if they don't even start to install the plug-in. To help convince them that it is OK to install my plug-in, I've tried to let them know how the plug-in will be installed and that everything will be fine.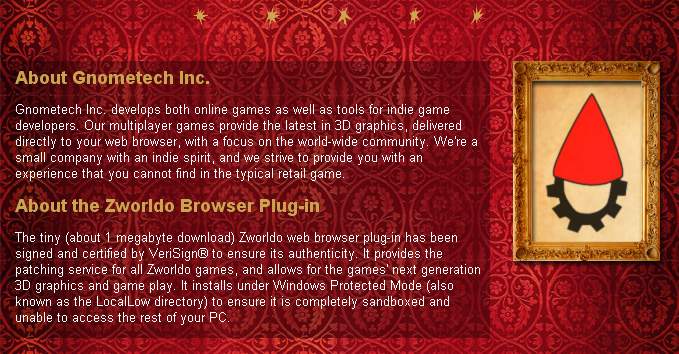 Web page excerpt describing who I am and how safe my software is
And hopefully that is enough to also convince you to drop by
www.zworldo.com
and try out the public alpha of Greenwood Faire. :) If you run into any issues, please feel free to post here, or in the Discussion area of my
Zworldo Facebook Page
. And while you're there, please
Like
the page. Thanks!
All blogs in this series:
Zworldo.com Blog 1
Zworldo.com Blog 2
Zworldo.com Blog 3
Zworldo.com Blog 4
- Dave
Gnometech Inc.
David Wyand
About the author
A long time Associate of the GarageGames' community and author of the Torque 3D Game Development Cookbook. Buy it today from Packt Publishing!